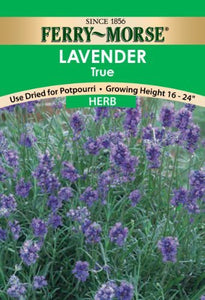 Quite possibly the most fragrant variety, our True Lavender seeds are great for use in perennial or herb gardens. These silvery plants grow attractive foliage and fragrant lavender flowers.
Grow in containers for a scented patio.

Our Sow Easy seeds are pelleted with an all-natural coating made from a mix of clay, perlite, and FDA-approved food coloring. This coating adds some bulk to small seeds and stands out in the soil, making direct sowing and accurate spacing easier than ever. However, the coating does add a few days to the germination time when compared to uncoated seed.