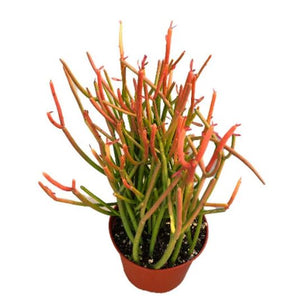 6" Container
The firestick plant, or Euphorbia tirucalli 'Sticks of Fire' cultivar, also commonly called a red pencil tree, is a succulent native to Africa.

The common name comes from the pencil-thin branches that turn bright red in the fall and winter, making them look they are on fire.

Small leaves grow and then fall off quickly, leaving brightly colored bare stick-like branches behind.

It's possible for them to grow up to 30' tall in the right climate outdoors, but most indoor specimens reach 6-8' at most.