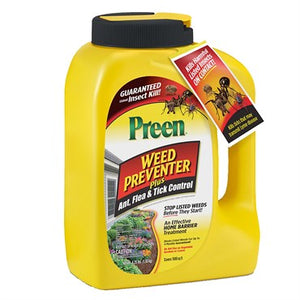 Preen® Weed Preventer Plus Ant, Flea & Tick Control
Shaker Bottle - Covers 1,000sq ft

A combination weed prevention and insect control product that is an effective barrier treatment in garden beds around your home. It prevents new garden weeds from growing while also controlling ants, fleas and ticks. It also kills other insects as listed on the label including the ticks that carry Rocky Mountain Spotted Fever and Lyme disease. Dual-action product that prevents weeds for up to four months and controls ants, fleas and tick. Works as an effective home barrier treatment against multiple insects, especially ticks that could carry Lyme Disease. Preen forms a protective weed barrier that stops weed seeds from rooting for up to four months. For use in landscape beds. Not intended for use on vegetable gardens or lawns.